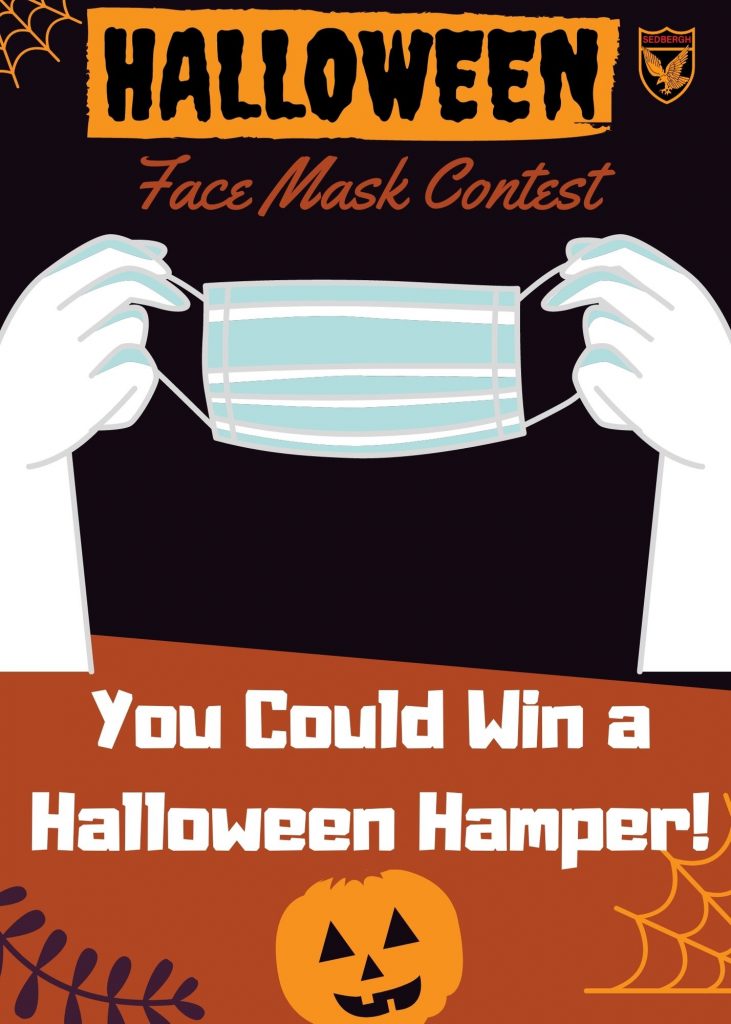 Face masks may be part of our new normal, but it doesn't have to be boring! So, for Halloween we would like you to get creative and design a mask for the spookiest of seasons. Here's how to enter:

1) Read the rules and regulations below
2) Design your face mask
3) Take a photo of your face mask & email it to sedberghcommunitycentre@yahoo.co.uk
Don't forget: the face mask is for decorative purposes only and is not designed to be worn!

Closing date is Friday 16th October 2020
YOU COULD WIN A HALLOWEEN HAMPER!
Contest Rules & Regulations
Halloween Face Mask Contest (21st September – 16th October 2020)
This contest opens at 1.00 p.m. BST 21st September 2020 and closes at 11.59 p.m. 16th October 2020.
To enter and be eligible to win, entrants must be a UK resident. Contestants can be any age. Employees of Sedbergh Youth & Community Centre are ineligible to enter.
No purchase is necessary. Limit of one person per entry.
To enter the contest, entrants must decorate a face mask to the theme of Halloween. Entrants should email a photo of their entry to sedberghcommunitycentre@yahoo.co.uk
Before entering the contest, contestants should read and agree with these Contest Rules and Regulations which form the terms and conditions. All participants will be deemed to have accepted and be bound by these terms and conditions.

By taking part in this contest, participants acknoweldge that the promotion is in no way sponsored, endorsed, administered by or associated with Facebook.
The prize is a Halloween themed hamper. The prize must be accepted as awarded. No substitutions and/or variations of the prize is permitted, except at Sedbergh Youth & Community Centre's sole discretion. Sedbergh Youth & Community Centre is not responsible for lost or stolen prizes.
One potential winner will be chosen by an independent adjudicator on 18th October 2020 and will be announced on the Sedbergh Youth & Community Centre's Facebook page on 26th October 2020. The judge will be looking for the face mask that most represents Halloween!
Before being awarded a prize, the potential winner will be required to sign and return by 26th October 2020, a full release and indemnity form stating that he or she has read and understood the contest rules and regulations, grants all consents required, and authorises Sedbergh Youth & Community Centre to broadcast, publish and disseminate his/her name, city of residence, photograph, likeness, sobriquet (nickname) and voice, in connection with any promotion or publicity, and/or for general news, entertainment and information purposes at no additional compensation to the potential winner, beyond the awarding of or participation in the prizes.
If, for any reason the prize winner (or his or her parent or legal guardian) cannot be reached within 5 working days, he or she will forfeit the prize and contest officials reserve the right, but not the obligation, to choose another winner from previous entrants.
The prize is non-transferable nor can it be converted to cash. The contest winner (or his or her parent or legal guardian) must pick up the prize in person from the Sedbergh Youth & Community Centre, Huddersfield Road, Odsal, Bradford, BD6 1DJ prior to the 30th October 2020.
Information provided by entry will be used by Sedbergh Youth & Community Centre to administer the contest.Certain information provided (such as postal codes and age for example) will also be used to provide market data but this will not be identifiable by individual.
By entering, all contestants release and agree to hold harmless Sedbergh Youth & Community Centre or any of their employees, trustees or management team from and against any and all liability for any injuries, damages to persons, personal property or any other loss whatsoever caused directly or indirectly, in whole or part, by the contestant's participation in the contest, including but not limited to losses arising from the contestant's acceptance, use or misuse of any prize awareded in the contest; any act or omission made by any released party; third party (including any other contestant) or the contestant himself/herself; any latent or apparent defect or condition in any equipment used in the contest; any previous medical condition of the constestant ; the administration of any first aid, medical or emergency treatment or other services rendered to the contetsant; and/or the consumption of food or drink by the contestant.
Sedbergh Youth & Community Centre is not responsible for lost, misplaced, misdirected, illegibile or damaged entries , or entries submitted after the contest deadline. Sedbergh Youth & Community Centre may at its sole discretion alter, amend, suspend or cancel this contest or amend the contest conditions at any time. Decisions of Sedbergh Youth & Community Centre are final. All entrants must meet and comply with all contest conditions. Failure to do so will result in immediate disqualification and prize forfeit.