Recreation, sport & support for all ages and abilities 
Our activities are available for people of all ages and backgrounds at low cost and sometimes free admissions. Please scroll down to see what is available or contact us on 01274 679843.
Covid-19 Update: 18th September 2020. Due to government guidelines and local restrictions in the Bradford area, the trustees have decided to close the centre until 1st October 2020 when the situation will be reviewed. Please keep checking back for updates.  All Covid-19 updates >>>
Sport activities at the centre are inclusive which means there is something for all ages and abilities. We believe that sport is good for well-being and everyone is welcome to come along and try out the sessions.
Sedbergh Boxing 
Beginners, adults & children please telephone 07961 905325 for further details and to check schedules during the holidays.
Pro-dance Academy
Flexibility & technique, lyrical,  street dance,  musical theatre, cheerleading pom dance & toddler dance. Please telephone 07463 292606 for further details and to check the schedules during the holidays.
Support & Personal Development
We're proud to offer several free resources to help people develop or to improve their lives including job support and advice on benefits and utility deals as well as form-filling assistance and food bank vouchers.
FREE home study courses available for a limited time subject to criteria. Contact Lucy here for details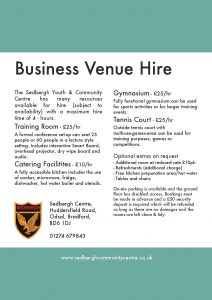 If you are a business or organisation looking for space we can offer a number of rooms available to hire. Whether this is for training purposes, conferences or office space we could help. Take a look at our Business Venue Hire page for more information or call us on 01274 679843.